You know better than anyone that choosing quality parts is crucial to your engine's productivity. You also know that there is no better way to protect and extend your engine's performance than by using Kubota parts, whether they are new or remanufactured.
If you are deciding to either invest in new genuine Kubota parts or purchase Kubota remanufactured parts for your engine, we have you covered. Here are reasons why our customers opt for one or the other.
Why choose genuine Kubota parts?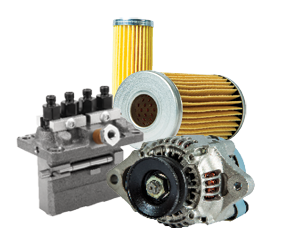 Genuine Kubota parts are brand new and used in our factories every day. They are relied on by operators to last for years and provide them with consistent engine performance. Additionally, these parts offer the best possible uptime and cost of ownership.
Although purchasing new parts requires a larger investment, genuine Kubota parts are constructed exclusively for your Kubota engine.
Among the many purchase options for genuine Kubota parts some of the ones featured include:
What are the benefits of using Kubota remanufactured parts?
Considerable savings, a smaller environmental footprint and a one-year purchase warranty (same as new) are key reasons to select our remanufactured parts.
Even though they are not brand new, we ensure that all Kubota remanufactured parts always return to the same stringent quality specifications as the genuine Kubota parts.
Kubota remanufactured parts include:
Alternators
Starters
Turbochargers
Injection pumps
Fuel injectors
Interested in learning more or placing an order? Please visit our website or contact your authorized Kubota dealer.