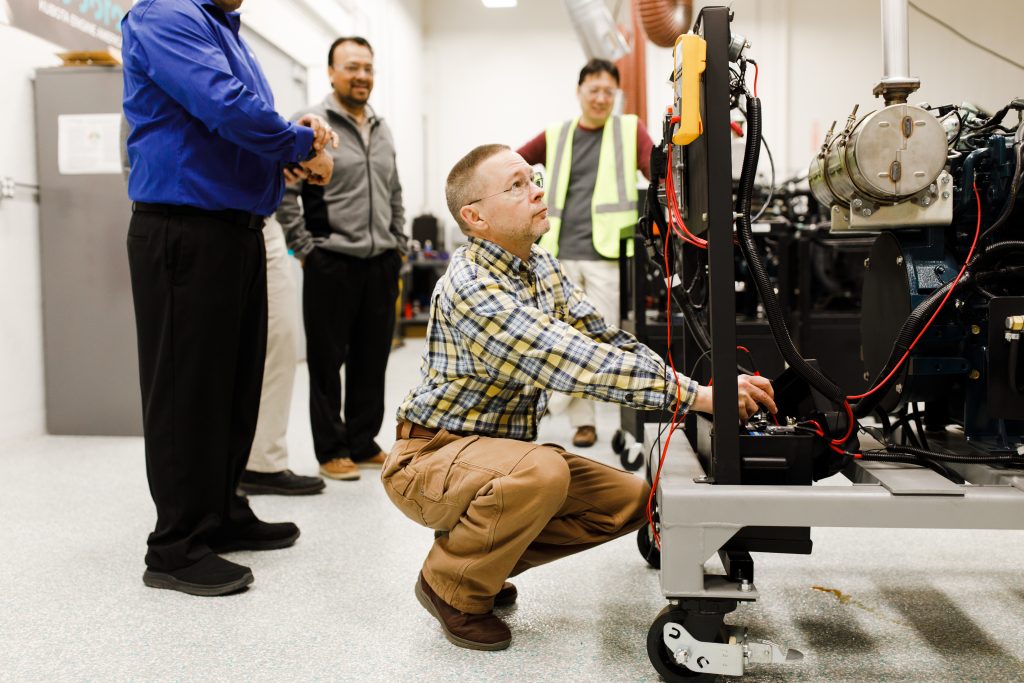 Running a shop can be hectic. Moving quality work through it quickly can be a big challenge, and there's always the chance that a repair is just out of reach of your current skill set.
That's where our Kubota Engine Academy comes in. We offer training to distributors and dealers on every facet of our engines so you and your technicians have the best knowledge possible. The best training means more efficiency, better customer satisfaction and a powerful competitive advantage. Put all that together and it means better profits.
We combine flexible online courses with hands-on training to give you comprehensive know-how at a pace you control.
Online courses
Many of our training courses are offered through our online course catalog. That means you and your techs can train when and where it's convenient.
These courses touch on a whole host of subjects, from basic electrical and hydraulic systems to diagnostic software and emissions systems. They're a simple-yet-comprehensive way to get to know Kubota engines. You can view our online course catalog here.
Once you have the prerequisite knowledge from our online training, you're ready for hands-on training with our instructors.
Instructor-led training
Learning from an online module can only take you so far. At a certain point, you'll need to turn some bolts.
Our training center, located at our headquarters in Lincolnshire, Ill., gives you the chance to learn from our highly skilled experts. You'll take classes that dive deep into Kubota engines. You'll roll up your sleeves and get firsthand experience on running engines with in-depth diagnostic simulations. You'll have access to a bright, roomy classroom environment with our professionals nearby to answer any question.
We offer three levels of training to give you your preferred set of skills: Skilled Technician, Advanced Technician and Certified Master Trainer. These skill levels allow you to progress according to the needs of your shop and your customers.
When it's all said and done, you'll have the know-how and the confidence to better service the Kubota engines you see every day. Visit our Kubota Engine Academy page to learn more, or contact us at (847) 955-2500 or kea_ex.academy@kubota.com to get started.