If your operation requires travel, moving your Kubota generator to power various jobsites is likely part of your business.
During transportation, operators often make mistakes that can pose a severe safety hazard.
Our team recommends using caution, following the steps below and referring to the generator operator's manual for model-specific protocols.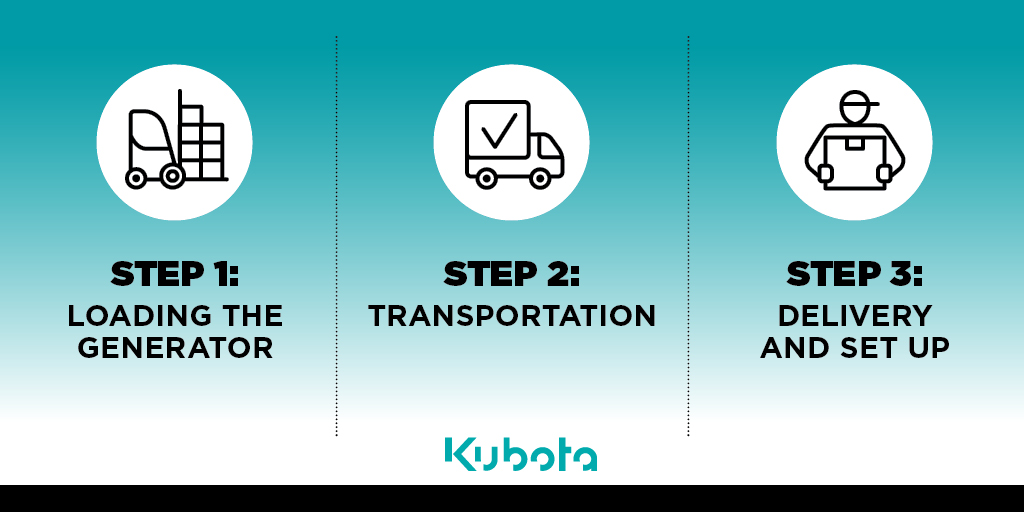 Step #1: Loading the generator
Shut off the generator and ensure it has cooled down enough to avoid burns.
Kubota recommends lifting from underneath via forklift as the safest means following the instructions provided in the operator's manual. If this method is not available, lifting via crane is possible using the specific lifting points as noted in the operator's manual.
If using a forklift, ensure it is attached to specific fork pockets to prevent damage to the generator. (Note: The GL14000 does not have fork pockets – follow the model operator's manual for specifics. Failure to follow the instructions could result in damage to the model's unique air intake system.)
Step #2: Transportation
Never transport the generator while running! It is not designed for the vibrations and impact of a moving vehicle.
After loading, tie the generator down using its visible tie down points.
Step #3: Delivery and set up
Examine the area for debris: leaves, loose grass, trash, etc. Remove any flammable materials.
Safely remove the generator from the vehicle – encourage your team to lift from underneath as the safest method of lifting; however, when lifting via crane is the only option, be sure your team uses the proper lifting points."  You can reuse the warning for the GL14000 is you feel that is valuable to do so.
Set the generator on a proper base. This should always be solid, firm and dependable.
Follow the engine's requirements for starting. If your generator was exposed to extreme temperatures during travel, refer to special start instructions listed in the engine operator's manual.
Do you have specific questions about caring for your generator? Reach out to your authorized distributor!