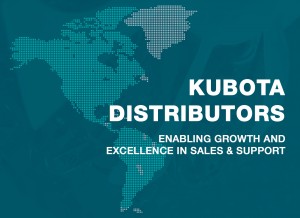 Kubota Engine America has a long-standing distributor network in the U.S. and Canada that provides engine sales and support. These authorized and factory-trained distributors have the expertise and knowledge to provide the right engine, quality engineered to match Kubota kits and other value-added services specifically for an OEM's unique engine package requirement. The trained engineer ensures all engine specifications meet Kubota's quality standards. The support of our distributors also includes genuine parts expertise and warranty support for all Kubota-powered products in their area of responsibility.  
We're so appreciative of our strong, high-quality network of distributors and all the work they do. They consistently provide support to OEMs in need of Kubota engines and to the service dealer network, making sure they don't miss a beat. 
Testimonials from our trusted Kubota Distributors 
Anderson Industrial Engines (AIE) – "The Kubota engine service network is one of the most extensive in the world. Kubota not only operates several divisions around the world, but there are also local dealers and distributors to help support no matter where the engine goes. Not to mention, Kubota has more models in their power range than any other competitor. We can find the exact right fit for your application." (Zach Turner | President of AIE) 
Frontier Power Products ULC – "I would recommend Kubota products to consumers because of the quality of the design and build. Kubota products provide long engine life and low cost of ownership. We have some very remote areas where our engines operate, and we trust the product to provide excellent service to the customer. There is no other engine we would trust to do so." (Joe Leskovjan | Corporate Sales Manager of Frontier Power Products) 
Gulf Engine Equipment – "I would recommend Kubota products to consumers because of the quality of their engines, and they have the best parts and service in the industry. My favorite part about working with Kubota is the people!" (Les Palmisano, Jr. | President of Gulf Engine) 
M-K Power Products – "I would recommend Kubota products because of the quality of the product. My favorite part about working with Kubota is that they hold the reputation of selling quality products and they are a recognizable brand." (James Paradine | Product Support Manager of M-K Power Products) 
Northern Power Products – "Kubota is on task with the ongoing emission requirements in our industry. As such, we're able to provide engines to customers which meet today's standards. I would recommend Kubota because of the product quality, worldwide support network and multiple engine options to suit a wide range of machine development." (Mike Okonek | Service Manager of Northern Power Products) 
Distributor Growth 
As the Kubota product line has grown so has the knowledge and value added with the services our distributors provide. Kubota prides itself in high quality and reliability in our products, and if you have an application where reliability is paramount, you can put your trust in our distributors to deliver excellent sales, provide expert engineering support and excellent service.  
Curious to learn more about our vastly experienced distribution network? Contact Kubota Engine America for more information at kea_g.contactus@kubota.com.