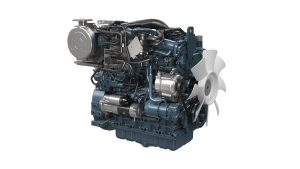 Kubota has obtained certification for its diesel engine with an output 55.4kW (equivalent to a horsepower of 74.3) under CHINA IV*, the emission regulations for non-road diesel vehicles. These regulations will be imposed on 1st December 2022, for the purpose of further alleviating environmental burdens amid rising awareness of the need to preserve the global environment.
This certified diesel engines are used for agricultural, construction and industrial machines. Kubota will expand other engine lineups certified with CHINA IV.
Date of Certification: April 17, 2021
Certifying Institution: Ministry of Ecology and Environment of the People's Republic of China
Certified Model: Industrial water-cooled diesel engine V3307-CR-T
About China IV
A new set of regulations (GB20891-2014, and HJ1014-2020) will be imposed on engines included in non-road mobile machines in China from December 1st, 2022.
These new emissions regulations will generally be tougher than even the existing regulations called CHINA III and added the conditions of the number of particulate matter, which are at a level equivalent the current emissions regulations in the United States and Europe.
Specifically, the requirements for in-use tests* has been added as an obligation of engine manufacturers that that measure exhaust gas during operation while mounted on an actual machine. While machine manufacturers are required to comply with not only the in-use tests but also remote monitoring that enables to provide location information.
*It measures the exhaust gas from the machines during operation instead of measuring the exhaust gas by carrying out the specified test pattern in a test room.