You invested heavily in your equipment – make it last for the long haul. Even though it encounters some of the harshest operating conditions in the industry, Genuine Kubota parts offer simple solutions to extend the life of your equipment's industrial engine.
We've laid out an overview of Genuine Kubota oil and filter benefits (a true dynamic duo).
Trust in the highly efficient Kubota oil filters
Research shows that over time, the filtration efficiency rate of a Genuine Kubota filter is superior to that of an aftermarket competitor. The effectiveness of Kubota filters actually improves as the hours pass – unlike our competitors.
How do they work? It's as simple as 1, 2, 3. Kubota oil filters use three specific elements to remove contaminants from your engine: the filter or "outer filter", internal filter and sealing gasket.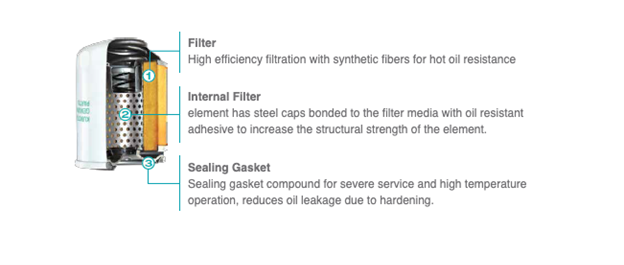 Our filters use synthetic fibers to provide high-efficiency filtration and hot oil resistance.
The internal filter element uses steel caps bonded to the filter media to increase its structural strength.
Sealing gasket compounds are designed to stand up to sever-duty service and high-temperature operation, reducing the risk of oil leakage.
Lubricate, cool and clean your engine all at once with Genuine Kubota oil
Developed specifically for Kubota industrial engines, using our oil is a simple way to increase the lifespan of your engine and protect its performance. Its superior features include:
Excellent heat resistance and stability. Kubota oil minimizes high-temperature degradation and maintains the proper viscosity.
Accurate cleansing and dispersion properties. Kubota oil works to cleanse the soot from your engine and absorbs tiny particles for fine dispersion.
Improved resistance to engine wear. Our oil is blended with specific additives that substantially reduce deterioration on your engine.
Manufacturer's quality assurance. Because Kubota oil precisely conforms to our strict quality standards, it will outperform competitors and last throughout the full oil change interval recommended for your engine.
Visit our website to learn more about Genuine Kubota parts available for your equipment. Are you ready to place an order? Contact your authorized Kubota distributor today.