When it comes time to service your Kubota engine or fit it with the proper parts, obtaining the correct information is key to ensuring you receive assistance as efficiently as possible.
Finding the right parts along with the authorized service dealer for your Kubota engine is easy if you have the serial number, along with the equipment application and the brand name. Having the engine serial number is also a powerful tool when using the Kubota service app. (It allows you to pinpoint which dealers can provide you service as well.)
Our biggest tip for you: Always obtain the serial number of your engine. The serial number can help determine the engine model and the correct service parts and changes based on serial number breaks. Here's how to find yours.
Where to find the Kubota engine serial number
All engines will have the serial number tag at the top of the valve cover.  The engine model, serial number, engine part number and the bar code are all found on the sticker on top of the valve cover.  We know that this sticker sometimes is hard to see or starts to wear off.  All engines have the serial number stamped on the block as well.  The serial number location on the block does vary by engine series. To find yours, locate your engine model and reference the illustrations and descriptions below.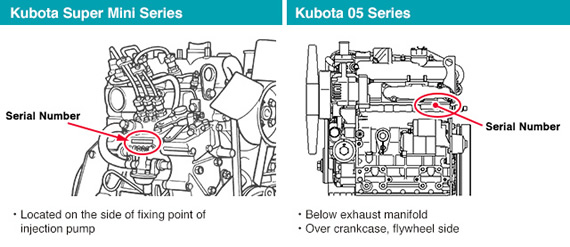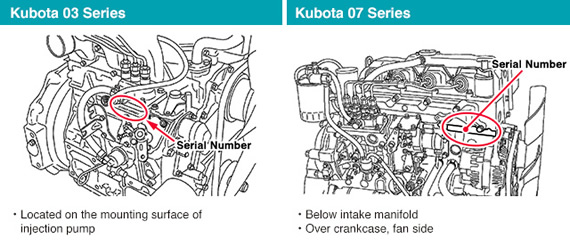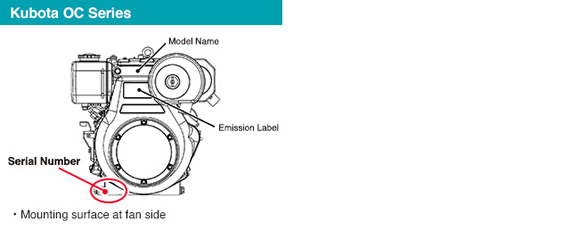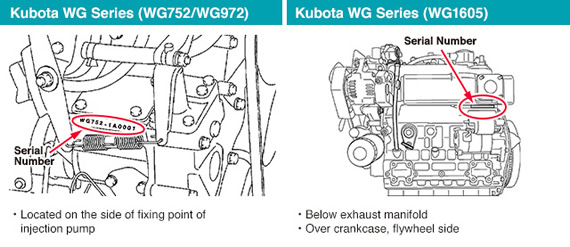 Have questions for us? Contact our team or find sales and service near you. Our network of dealers and distributors are always happy to help.