The engine manufacturer paves its path toward carbon neutrality.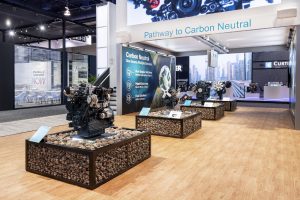 With Kubota paving its path toward carbon neutrality, the company is excited to showcase these developments at CONEXPO 2023, led by the trailblazing 3.8-liter Hydrogen engine. Kubota will be featuring new engine developments using carbon-free fuels, hybrid engine solutions and engines with greater fuel efficiency, which are all part of Kubota's initiatives to reach a carbon-neutral society.
Kubota will feature the newly developed, 3.8-liter Hydrogen engine at CONEXPO starting March 14. Similar to gasoline engines, the 3.8-liter Hydrogen engine offers spark ignition while packing a punch at 85 kW – which is also the power required for a 45 kVA generator. Specifications of the engine include 3.8 liter and 4 cylinders for multiple applications, making it a great alternative fuel solution.
Along with the 3.8-liter Hydrogen engine, Kubota announced last year that all Kubota diesel engines in Europe were approved to use paraffin-based fuels that comply with European standard EN15940. This permits the use of gas to liquid (GTL) and Hydrotreated Vegetable Oil (HVO) fuels complying with the standard, enabling a reduction in CO2 emissions of up to 90% with no engine modifications needed. To expand on this, Kubota is happy to announce that the use of HVO is also approved for use in Kubota diesel engines in the United States. This announcement further underlines the company's commitment to a carbon-neutral future as HVO and GTL offer a range of environmental benefits compared with more conventional fuels, making it yet another fuel solution.
Kubota is excited to announce the D1803 P1 Hybrid engine as an additional hybrid solution. This engine is compact and highly robust with an integrated motor generator embedded within the flywheel housing. With the P1 Hybrid engine, the motor only assists for the brief periods in which high output is required. Additionally, necessary components are provided by Kubota, so customer development resources can be kept to a minimum.
The switch between engine and electric motor drive will also come into play with Kubota's D1105 P2 Hybrid engine. The engine was first introduced at the Bauma 2022 show in Germany; however, Kubota is excited to introduce it to the North American market at CONEXPO 2023! Offering a rated output of 24.8 HP (18.5 kW) at 3000 rpm, the D1105 P2 Hybrid also offers the ability to transition between diesel engine drive and electric motor drive while in operation. In areas where emissions or noise are a concern, the engine can be stopped and switched to the electric motor. The start of production on the D1105 P2 Hybrid is scheduled for 2025.
Kubota will also feature its V3307 Micro-Hybrid engine, which will be in production later this year. The engine has a straightforward design with three main components: a DC converter, a lithium-ion battery and a motor generator attached to the existing engine model. Learn more about the V3307 Micro-Hybrid here.
Kubota believes that a hybrid system combining engine and electrical power is an effective solution for reducing CO2 from industrial engines, which require high output and high load. As of March 2023, Kubota is promoting three hybrid solutions: the newly introduced D1803 P1, the D1105 P2 and the V3307 P0 Micro-Hybrid.
Also on display is the D902-K engine, Kubota's first electronically-controlled diesel engine under 19 kW, introduced in 2021. The D902-K is a 3-cylinder diesel engine with a displacement of 0.898L and an output of 24.8 HP (18.5 kW) at a rated speed of 3600 rpm. Black smoke emissions have been reduced to an invisible level during startup, acceleration and sudden load, all due to the new TVCR combustion system. Learn more about the D902-K engine here.
Building off the D902-K, Kubota's introduction of the D1105-K engine followed in 2022. Also equipped with the new TVCR combustion system, which reduces black smoke to an invisible level, this new engine has an output of 24.8 HP (18.5 kW) at 3000 rpm, 3 cylinders and 1.123L displacement. The improved fuel consumption and the compactness of the D1105-K allows for ease of installation where the conventional model is already in use. Learn more about the D1105-K engine here.
Along with new additions to the engine family, Kubota will also feature their first-ever diesel engine above 100 HP, the V5009 from the Kubota 09 Series. Introduced at CONEXPO in 2017, this engine was designed to meet the higher power demands and wide range of needs in construction and industrial machines. The V5009 delivers 210 HP while meeting the stringent emissions standards of EPA Tier 4 and EU Stage V. Learn more about the reliability and performance of this engine here.
At CONEXPO, Kubota will be featuring all of these carbon-reducing solutions. We look forward to seeing you at the upcoming exhibition in Las Vegas! Make sure to stop by and visit us in the South Hall at booth #S84415, starting March 14.
For additional information, view our CONEXPO Highlights page.