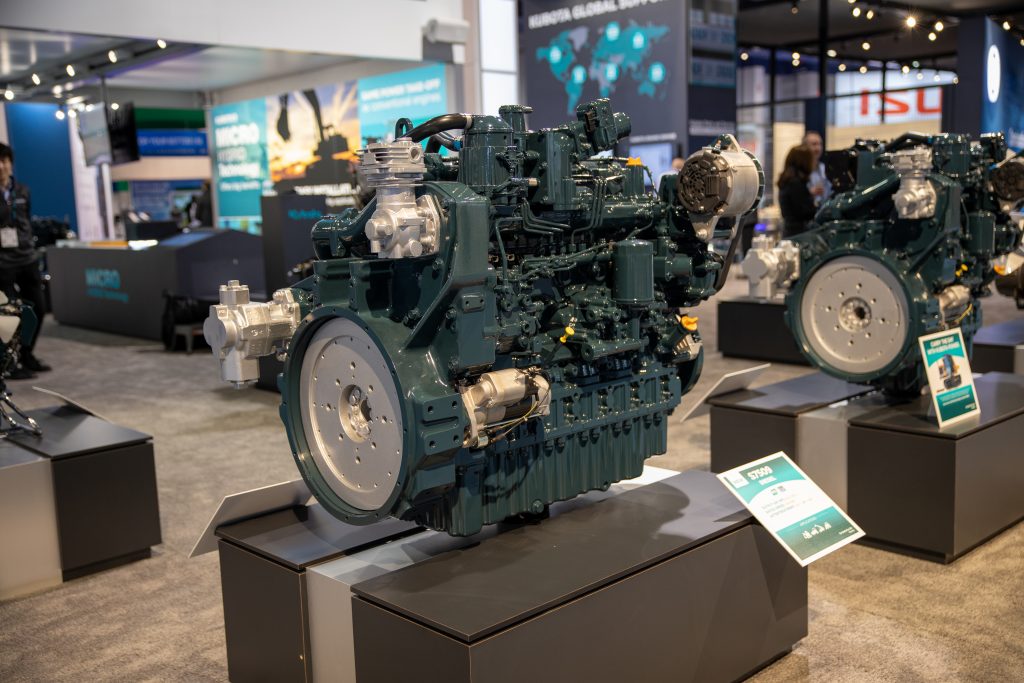 It may have gotten cut a bit short, but our CONEXPO experience this year was big on excitement. Attendees got a good look at our new high-power products and services, including:
The S7509. The new S7509 was unveiled at CONEXPO and generated a lot of interest. It marks our first engine to up to 300 HP (our most powerful engine to date) and comes with some fantastic features. It's a compact 6-cylinder engine with one-side maintenance, high fuel efficiency and a design flexible enough to meet your needs.
This engine is designed to power construction and industrial machines and will be made with the same attention to emissions compliance that you've come to expect from Kubota. If you have questions about the S7509 or its availability, talk to your Kubota Engine distributor.
You can also read more about the S7509 here.
The V5009. Our 09 Series was rolled out at the last CONEXPO with the introduction of the 4-cylinder V5009. Designed to meet the higher power demands and diverse needs in construction and industrial machines, the V5009 can deliver up to 210.9 HP while meeting the stringent emissions standards of EPA Tier 4 and EU Stage V.
The V5009 won over critics, too, winning Diesel of the Year honors from Diesel International magazine in 2019. "V5009 is a genuine industrial engine, with a good balance between reliability and performance, power density and an excellent ratio between weight, volume and performance curves," wrote Diesel International Editor-in-Chief Fabio Butturi.
The best news for you? The V5009 is now available for orders.
Kubota micro-hybrid technology. Our micro-hybrid engine is perfect for those looking to bring down costs or use less space in new or existing applications. It's ideal for applications that require intermittent overloads, like forklifts or other construction equipment, kicking in with electrical boost power when you need it. You'll get the same performance from a 3-cylinder micro-hybrid engine as you would from a conventional 4-cylinder engine.
Our new service app. Success in today's competitive climate means finding every efficiency. We created the Kubota engine service app to streamline your service jobs and give an edge in efficiency.
The app allows you to quickly and easily register your product, which allows your servicing dealer to expedite repairs and keep replacement components on hand, saving you time and headaches.
The app also allows you to easily locate a dealer near you, so you can quickly contact a dealer wherever you are. You'll also get troubleshooting steps, maintenance scheduling and many more features. You can read more about our service app here.
Questions about anything? Please talk to your Kubota Engine Distributor to learn more!